Most of the controls for the wholesaler product are in the "Settings" menu located in the lower right-hand corner.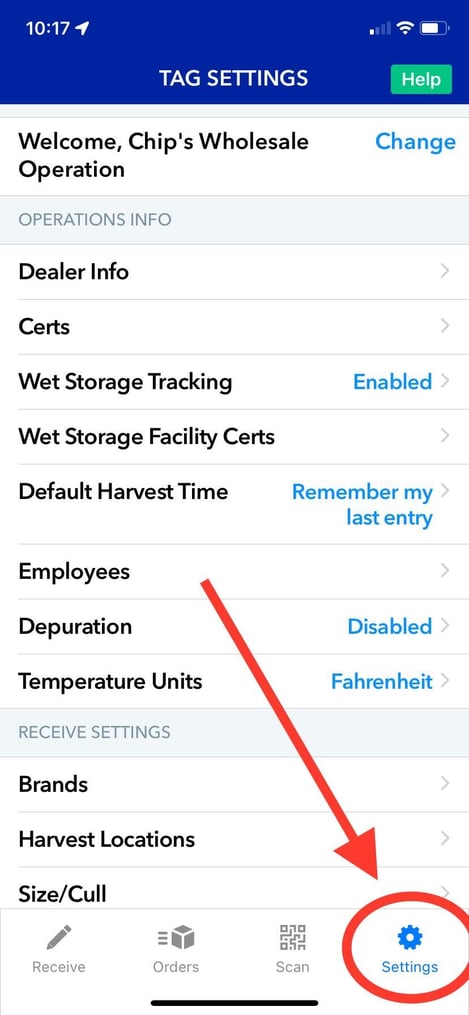 ---
Initial Setup
Work down the Settings menu from top to bottom filling in all relevant information beginning with
Dealer Info This is what will print on the top of your tag. (address, website, phone...)
Certs: These are your state/federal/provincial/local certifications.

A Menu will appear for you to select Depuration, Repacker, Reshipper, Shellstock Shipper or Shucker Packer (see below) *NOTE the end of your cert # usually reflects the cert (ex: SP = Shucker Packer):
Select whether or not you utilize Wet Storage & your preferred temperature unit
Item Code: Some companies use this.
Employees: A list for your HACCP log
Brands: What do you call your product. Examples: Deluxbury, French Kiss....
Harvest Location: Typically a two part field: Duxbury, MA CCB 31
Size/Cull: Petites, Markets, Littlenecks, Countnecks...
Vendors: Who do you buy product from?
Original Shippers: Often the same as vendors (and therefor no need to add here).
Packed In: 10lbs bags, 60lbs totes....
Customers: Who buys/receives your product? If you include an email address, you can automatically email them notifications of incoming. If you include the address, we will print that on the labels to avoid confusion.
Shipping Methods: Truck routes typicall (Araho to Ocean Express). Can also be something like: Pick up, Airfreight,
---
In addition to adding items in settings, you can also add all fields inline
If you are receiving something new, just "+Add New Brand"
If it is a new vendor (or new size, harvest location...) just click "Add" in the upper right.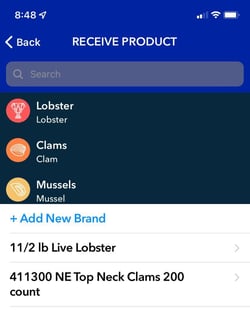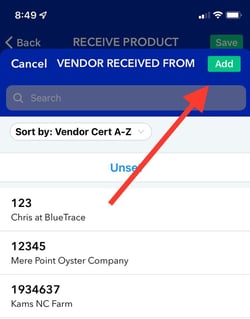 YOU ARE ALL SET TO BEGINNING RECEIVING, SCANNING AND PRINTING TAGS!