Yes! BlueTrace makes it easy to print bulk tags, complete with all required fields.
Here is a quick review of the Bulk Harvest feature in our Harvester app.
When printing a bulk tag, be sure to turn on the Bulk Harvest field on the tagging screen.
This will automatically add three critical components to your tag:
1) BULK tag identification in the header
2) Quantity indicating the number of pieces per container and the total number of containers
3) Required bulk tag language: "ALL SHELLFISH CONTAINERS IN THIS LOT HAVE THE SAME DATE AND AREA OF HARVEST"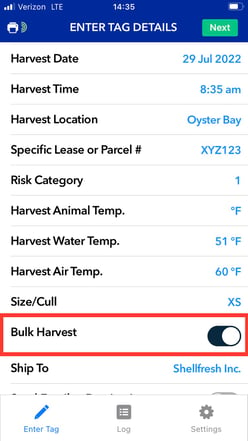 .
With Bulk Harvest turned on in your BlueTrace app, you can easily satisfy the bulk tagging requirements for the state of Washington. If you hear otherwise or need any further assistance, please let me know.